From Labour party activist to director-general of the Institute of Directors, the 'eternal migrant' has led a diverse life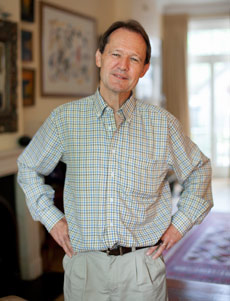 ©Dan Dennison
When Simon Walker, director-general of the Institute of Directors, first saw his west London home in 1994 it was a ruin. Nevertheless, both he and his then eight-year-old son fell in love with it. "My son," he recalls, "went back home and said to my wife, 'I've just seen the house we're going to buy'. He loved it because there's a tree in the back garden and he thought he could spend all his time climbing it."
Walker had no such ambitions. What attracted him most to the property was the setting, overlooking Brook Green and its tennis courts. "It makes the house open. The light is fantastic," he says, "and living on a green means there are no houses on the other side of the road, it automatically doubles the parking places."
As it happens, parking is not a concern for Walker during the working week when he commutes by bike to the IoD headquarters on Pall Mall. This might seem unusual for the head of an organisation widely referred to as the bosses' union (the IoD website describes it as the oldest and largest association for directors and business leaders) but Walker began cycling to work while serving as communications director at Buckingham Palace between 2000 and 2003
He remembers a policeman intervening as he began to chain up his bike on the first day of that job. "I wouldn't worry about that, sir," the officer said. "There are 30 men with machine guns around here – I don't think a bike has been stolen for 20 years."
It took the family a year to convert their ruin into a home, and as Walker shows me around, it becomes clear that the reconstruction reflects his amazingly diverse career – one that has seen him change jobs almost every three years.
So, on deciding to convert the basement into his study, Walker made it a shrine to his leftwing past. On the wall behind his desk hangs a poster of a debate at the Oxford Union in 1974. The motion was "The end justifies the means", wording designed to reflect classic Marxist views. At the bottom of the poster there is a strong warning: "Neither voting nor speaking against the motion will be tolerated by order." Walker explains: "As president of the union, I had the right to a farewell debate, to choose the subject and set the conditions."
Walker spent his childhood in apartheid South Africa where he was brought up in a leftwing household. "Even in his very old age my grandfather had a picture of Stalin on his mantelpiece. At Oxford, I was chairman of the Labour party and somewhere here there's a photograph of me with Harold Wilson. But I have moved a long way from that," Walker says.
Across from his desk hangs the cover of a New Zealand magazine, which caricatures his lobbying activities. Walker moved there after leaving Oxford and set up a lobbying agency after helping the country's Labour party regain power in 1984. He does not mind the "unflattering portrait" of him as a bookie but he objects to the trilby he is shown wearing. "I have never, ever worn a hat," he says.
It is quite a climb from the basement up the five storeys to the roof terrace. As Walker leads the way, he points out how almost every room had to be reconstructed. However, it is the large sitting room, created after knocking down the wall between two rooms, that truly reflects his many travels and varied life.
The room has two 18th-century brass fireplaces from the Cape where Walker was born; volcanic rock from Wuhan in China, the birthplace of Walker's adopted daughter; and paintings by famous New Zealand artists selected by his wife Mary, whom he met in New Zealand, where he lived for 14 years. "I'm still a colonial at heart and I shall always be a migrant," he says.
Both his time at the Palace and at Downing Street, where he was part of John Major's policy unit, made him very aware of Britain's past. Remembering his time at Downing Street, he says, "I always had the sense of who else had walked through those doors and down those corridors. I found that exciting."
For very different reasons, his views on immigration would excite interest, more so as he says it reflects the views of his IoD members. "They value immigrants primarily for their motivation. For me, they make London the place I want to live." However, he accepts that the present benefits system encourages British people to turn down jobs and needs to be fixed.
Walker is also aware that Britain's relationship with Europe needs fixing. In 1975, he campaigned for a Yes vote in the referendum. "I no longer believe in a united Europe. The euro does not work but I remain a supporter of British membership of the EU," he says. "The single market remains absolutely the most important feature of Europe. My members are extremely critical, as I am, of over-regulation from Brussels and waste but they do not want Britain to leave Europe. Only a minority would like to leave."
Standing in the centre of the sitting room, Walker points to his favourite picture, on the wall opposite, by the US artist Ben Shahn and reads out the text which forms part of the artwork: "You have not converted a man because you have silenced him."
With that he takes on the Archbishop of Canterbury for declaring war on Wonga, the payday loan company. This, he insists, has nothing to do with Wonga directors possibly being members of the IoD. For him it is a matter of principle. "The archbishop was embarking on a high-risk strategy. Capitalists have to behave morally but Wonga is, frankly, one of the better payday lenders. It's not a sector I would like to stamp out."
Walker is just as supportive of those high-profile companies that have been pilloried recently for paying very little tax. "It is oversimplistic analysis to say that of Google and Vodafone. How much of Vodafone's business is in the UK? Two per cent? The idea that, because it happens to be based in Newbury, it should pay vast amounts of UK corporation tax when it is probably paying huge amounts in India, not to mention investing heavily in 3G licence fees, shows a lack of understanding of what they do."
Walker's job at the IoD is no less challenging. He arrived there two years ago from the British Private Equity and Venture Capital Association, where his job as chief executive was to defend the private equity and venture capitalists facing criticism in the wake of the financial crisis.
At the IoD he has been tasked with halting the decline of an organisation that has lost 18,000 members in the past six years. The membership has plateaued at 36,000 but, with the average age of members now well into the 50s, Walker accepts it is quite a task to attract younger entrepreneurs and directors of start-ups.
To encourage them, jackets and ties are no longer required to enter the Pall Mall headquarters – members can even wear jeans – but, says Walker, "we prefer it if they aren't torn."
——————————————-
Favourite things
All of Walker's favourite things are in the living room. On one table is a Yemeni sword. "This is a gift from my son," he says. "He got it when he went to Yemen and my daughter-in-law is Yemeni. It is a ceremonial sword. But I cannot unsheathe it because then you're obliged to draw blood, even if it's your own."
On another table is a statue of a reclining Buddha, made of white jade. "We got it when Mary and I went to Burma 15 years ago and it brings back memories of a wonderful trip."
His third choice are the paintings of Colin McCahon, who Walker describes as "New Zealand's greatest painter". "I would put all his landscape paintings collectively . . . If forced to choose I would go for the one called Buttercup Fields."
Comments